Archive for December, 2011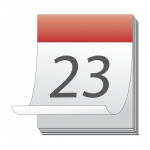 I know, I know!  My challenge to you this month was to NOT do any marketing this week.  Well, it's Monday and I'm pretty sure I'll do some marketing.  What?!!!
This is the joy of not planning to do marketing.  I'm definitely going to get my tax papers ready.  I'll also be taking some time out to go play with family and/or friends.  I also have plans to take a voice lesson this week to prepare for an audition next week.  That's ALL going to happen.
However, there will be some extra business time, once my end of year/new year stuff is together.  Then what?  Usually, what happens is ideas for marketing start creeping in.  Then I, of course, want to get started with those ideas right away and start writing.  Inevitably this is what happens the last week of December for me.
Why tell you this?  I want you to give yourself permission.  If you find yourself having completed everything you wanted to do in the week.  Let's say Thursday you have some spare time because you completed your end of year stuff.  Ask yourself the question…What do I want to do right now?  Then, go do it!!  If it's marketing, then please give yourself permission.  Give yourself permission to play wherever your heart desires.  This is YOUR time.  You created it, you get to enjoy it!
Having a week off from marketing means to not have any marketing that MUST get done.  It doesn't mean you have to avoid marketing when you really want to go play in it.
Enjoy your week!  And if, per chance, you are missing out on things you really wanted to do this week…let me know.  I can help you get more of that on a monthly, weekly, daily basis.
I know you are busy during the month of December.  You're probably getting ready for the end of the year and getting ready for next year.  To help you get a great start to the new year, below are three New Year Boosting events that are happening in the next couple weeks.
December 7 @ 3:00pm EST.  In October, Kathy Mallary and I did our first Crazy-Ass Marketing Ideas call.  We got so much positive feedback and so many different people asking us to do it again, we've decided to do just that.  Only this time, we're asking YOU to bring your most Crazy-Ass Marketing Idea so we can help you get it into action.  It's an hour of opposites.  We're going to show you how doing the opposite of what most marketing gurus would tell you to do will actually get you better results.  You can click through to register for updates about the call by visiting http://www.coachesmarketingsource.com/crazymarketingideas.
December 15 at 1:00pm EST. On this call, I'll be interviewed by Leah Shapiro, Kick-Ass Life Coach.  If you feel like the whole "do it the way you're told" thing is getting old and not working anymore (which it usually doesn't work) then it's time for a new way of looking at things.  Fly your freak flag and watch the money roll in.  We'll talk about how and why this works on the call.  You can register at http://defythebox.com/BreakFree/flying-your-freak-flag-builds-trust/.


December 15 @ 4:00pm EST.  What if you didn't have to create MORE marketing projects in order to increase cash flow?  Find out the dirty little secret that's holding you back from getting coaching clients.  In this FR*EE call, I will be sharing how I create my business life to include marketing without having it overwhelm me (and NO it doesn't include delegating more work).  If you're fed up with all the time you spend marketing, then this call is for you.  Register for this call and the recording at http://www.coachesmarketingsource.com/stopmarketingcall.html.
Entire Month of December - I challenge you to take the last week of December off from marketing.  That's right, the Marketing Mentor is advising you NOT to do any marketing for a week.  To help  you do this, I've posted a calendar to help you at  http://www.coachesinternetmarketingsource.com/no-marketing-for-coaches-last-week-of-december-2011.
Enjoy the month of December and please share each of these events with 2 other people you think could benefit.