Kristen Beireis, Trust Marketing Expert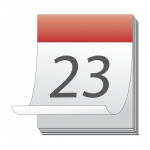 I know, I know!  My challenge to you this month was to NOT do any marketing this week.  Well, it's Monday and I'm pretty sure I'll do some marketing.  What?!!!
This is the joy of not planning to do marketing.  I'm definitely going to get my tax papers ready.  I'll also be taking some time out to go play with family and/or friends.  I also have plans to take a voice lesson this week to prepare for an audition next week.  That's ALL going to happen.
However, there will be some extra business time, once my end of year/new year stuff is together.  Then what?  Usually, what happens is ideas for marketing start creeping in.  Then I, of course, want to get started with those ideas right away and start writing.  Inevitably this is what happens the last week of December for me.
Why tell you this?  I want you to give yourself permission.  If you find yourself having completed everything you wanted to do in the week.  Let's say Thursday you have some spare time because you completed your end of year stuff.  Ask yourself the question…What do I want to do right now?  Then, go do it!!  If it's marketing, then please give yourself permission.  Give yourself permission to play wherever your heart desires.  This is YOUR time.  You created it, you get to enjoy it!
Having a week off from marketing means to not have any marketing that MUST get done.  It doesn't mean you have to avoid marketing when you really want to go play in it.
Enjoy your week!  And if, per chance, you are missing out on things you really wanted to do this week…let me know.  I can help you get more of that on a monthly, weekly, daily basis.