Kristen Beireis, Trust Marketing Expert
This article is a reprint from my newsletter last week.  I'm on a mission and feel the need to share this everywhere, so I'm posting it on my blog too.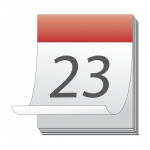 Tomorrow is December, which means 2012 will be here very soon.  If you're like most business owners I know, you have a list a  mile long of all the things that have to get done at the first of the year.    I have to prepare 1099's, get my tax documents for 2011 put away, prepare my files for 2012 and so on.   In the midst of all that, January is a great time to launch new products and programs, so there is marketing to accomplish as well.  How in the world is all of this supposed to get done?
NO marketing!
Anything but marketing.  That's right, I'm telling you to take a week off from marketing.  Why would a marketing expert even suggest such a thing?  Because in January, you need to focus on your marketing 1st thing to launch those beginning of the year programs.  If you have other things distracting you, it could be March before you actually get it out into the world.  I don't want you to be bogged down the moment you return from your New Year's celebration(s).  I want you to be focused, alert, clear and ready to take on January's marketing.
So, my suggestion is to take the last week of December to get your end-of-year things together.  Pull your tax documents, get your new files ready and clear your plate for January.  Also, take an afternoon off (or every afternoon off).  Go catch a movie, spend some time with family, get a massage, go shopping etc…  Do some things for YOU. Take advantage of the last week in December.  Get prepared and take some time for yourself.
Now, if you're like most business owners you're thinking there's no way you could take an entire week off from marketing.  Well, you can but you have to start preparing right away.  If you are in the USA, you are taking the rest of the week off for Thanksgiving, so right away means Monday.
Here is a calendar  of sorts to help you plan your marketing so you can have the last week for you.
Week 1 11/28-12/2
Inventory all the marketing that needs to still be completed in December.
Put it into priority order.  What's coming up first?  What are the most important pieces?
Take this week to complete your top priorities…try to get through 1/2 of your list.
Week 2 12/5-12/9
Complete as much of your December marketing as possible.
Inventory all the marketing that needs to happen the first two weeks of January.
Prioritize it like you did for December.
Week 3 12/12-12/16
Finish up your December marketing and get started on your top priorities for January.
If you plan to take all of the next week off, get your 1st week of January priorities completed.
Week 4 12/19-12/23
Finish up your 1st two weeks of January, if you are working this week.
Last week of December
Whenever you are wondering what to do in your marketing, this is the answer.  Keep your list handy so you can take a quick glance and know exactly what you are working on.
If you need to take some personal time for holiday festivities, no problem.  Just make sure as soon as you are back in the office you keep going to the list and checking things off.  While you are working, focus is important.  Stay focused and you can take the last week in December to get YOUR stuff done.  How much trust would you build with potential clients if you demonstrated how to take time for you?
Are you in?  Are you taking the "Save the last week of December Challenge?"  Let me know if you are and how it goes.